Welcome to your very first calligraphy class!  A few thoughts before we begin our journey through the art of writing:
Practice makes perfect!

If you begin to get frustrated, take a few breaths, shake out your hand, and try again!
Classwork:
Okay, let begin.  As in all art, it is very important to understand the history behind what we are learning about.  The following link will explain to you all about the Roman hand, please click here: The Roman Alphabet
Once you read through the site, please type in answers for the following questions: Roman Hand Questions, when finished, please email me your paper.
Please watch the following video based on the beginning strokes of calligraphy.  Try to follow along on a piece of white lined paper:
Video: Basic Calligraphy Strokes
As stated about, practice makes perfect.  We have to learn the basic techniques before we begin writing letters.  Below is a technique guide with the basics.  On your own piece of lined paper, please follow along with the guide sheet: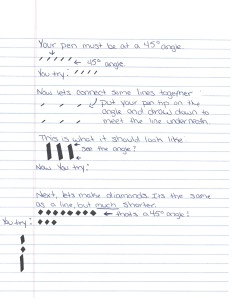 Homework: Due Next Class
Continue classwork if not finished
Designed by Lindsey Almeida
LStark@Ramapo.edu
Last Update: 04/21/2015
MSET: This project contains academic projects meant for student learning. This site is not for profit and does not imply endorsement by any company or educational institution.