Classwork:
Now that we know some basic pen strokes, we are going to continue to practice with our pen.  You have to continuously checking to make sure you are holding the pen in a 45 degree angle.
Please watch the following video on how to create crescents, an important pen stroke for most of the alphabet. You may follow along with the video in your notebook
Below is classwork for you to continue calligraphy technique practice, please follow the guide: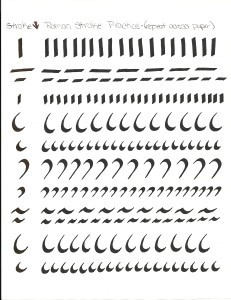 Homework: Due Next Class
Finish classwork if not done

Practice the following techniques on one full page in your notebook:

two full lines of diamonds- all the same size

two full lines of long lines

two full lines of short lines

two full lines of the large right crescents

two full lines of the small right crescents
Designed by Lindsey Almeida
LStark@Ramapo.edu
Last Update: 04/21/2015
MSET: This project contains academic projects meant for student learning. This site is not for profit and does not imply endorsement by any company or educational institution.