Classwork: For classes 38-40
We will be working on our final project, which will be a name design. You will be creating a wall hanging with an original flourish.  You will be writing the upper and lower case alphabet, numbers 1-9, and a quote.
Step one: On lined paper, write out the words "Old English:
Step two: Write out the upper case alphabet, lower case, and numbers 1-9 on lined paper, remember:
Keep your letters evenly spaced
Keep your pen strokes uniform
keep your letters the same height
Each row of letters should line up
Step three: Choose a quote from the page below, and write out evenly on lined paper: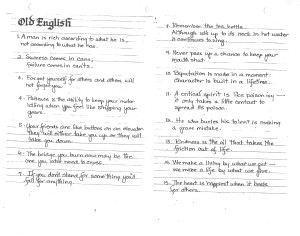 Step four: On a piece of 17×11 paper, cut out and tape down so they are straight and even.  It should go in this order:
Old English
Upper Case Alphabet
Lower Case Alphabet
Numbers 1-9
Quote
Step five: Using the light box, trace your wall hanging onto a new piece of 17×11 white paper.
Step six: Draw your own flourish, and trace your design on the top or bottom, or both!
If you are interested in seeing how I will be grading this project please click the link below. You can check back through out the art making process to make sure you are on task: Calligraphy Rubric
Student Example: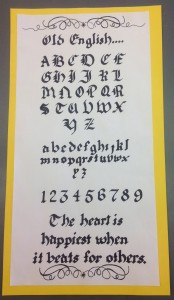 Designed by Lindsey Almeida
LStark@Ramapo.edu
Last Update: 04/21/2015
MSET: This project contains academic projects meant for student learning. This site is not for profit and does not imply endorsement by any company or educational institution.