Classwork:
We are going to begin to work on upper case Old English letters.  Remember, this hand has a lot of detail in it, so make sure when you start, you go step by step. We are going to break down the upper case alphabet into two classes so you can focus and learn each letter.  Please follow along with the guide sheet in your notebook: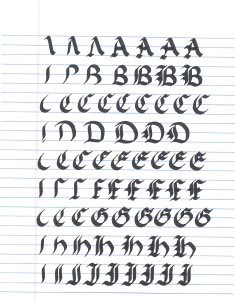 When done, please continue to practice:
3 lines each of full detailed A's-J's
Homework: Due Next Class
Finish classwork that was not completed in class
Designed by Lindsey Almeida
LStark@Ramapo.edu
Last Update: 04/21/2015
MSET: This project contains academic projects meant for student learning. This site is not for profit and does not imply endorsement by any company or educational institution.