Classwork:
We are going to continue practicing pen strokes, refer to the guide below: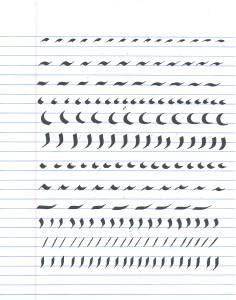 Please complete the following in class:
Four seperate lines of each technique in your notebook.
Try to put the technqiues together and write out what you think the lower case alphabet would look like.  Only one attempt per letter.
Homework: Due Next Class
Finish any classwork that was not completed during class time
Designed by Lindsey Almeida
LStark@Ramapo.edu
Last Update: 04/21/2015
MSET: This project contains academic projects meant for student learning. This site is not for profit and does not imply endorsement by any company or educational institution.