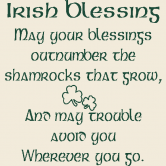 The uncial alphabet, is currently used now, mainly as a decorative script on road signs, street names, shop signs and elsewhere in Ireland.  Although this calligraphy hand did not originate in Ireland, it has become the lettering of the land.
Essential Questions:
What is the Uncial hand in Calligraphy?

What are the specific pen techniques for the Uncial hand?
What you will learn from this section:
Distinguish the different details, techniques, and characteristics for the Uncial hand, and how they differ from the Roman Hand.
Know the multicultural history behind the Uncial hand.
Know the different writing mediums used in the Uncial historical art period
Develop the hand eye coordination and writing skills.
Create a successful Greeting Card, using the details, techniques and characteristics of the Uncial, with a twist of their own artistic influence.
Image Credits:
Designed by Lindsey Almeida
LStark@Ramapo.edu
Last Update: 04/21/2015
MSET: This project contains academic projects meant for student learning. This site is not for profit and does not imply endorsement by any company or educational institution.