Classwork: For Classes 8-10
We will be starting our final project, you will be choosing a quote which you will write in the Roman hand.  It can be a quote from your favorite song, poem, or an inspirational saying.  Please keep it school appropriate and give credit to the person who said it.
Step one: begin writing your quote on lined paper.
Keep your letters evenly spaced
Keep your pen strokes uniform
keep your words evenly spaced
keep your letters the same height
Step two: cut out each line of your quote and tape the lines onto another piece of lined paper, you can setup the quote how you like.
Step three: using the light box, trace your quote onto a piece of calligraphy paper.
Step four: add flourishes and embellishments around your quote.
If you are interested in seeing how I will be grading this project please click the link below. You can check back through out the art making process to make sure you are on task: Calligraphy Rubric
Student Example: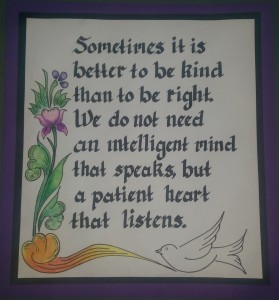 Designed by Lindsey Almeida
LStark@Ramapo.edu
Last Update: 04/21/2015
MSET: This project contains academic projects meant for student learning. This site is not for profit and does not imply endorsement by any company or educational institution.