Classwork:
We will be working on practicing letters.  Please use the following guides to follow along with.  You will be rewriting these words on a page of your calligraphy notebook, please make sure to date the page.
Animals:
Food: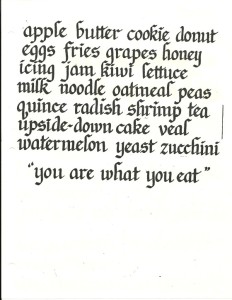 Homework: Due Next Class
Any classwork that is not finished, should be finished for homework.

Please practice writing your first and last name in the Roman hand in your notebook
Designed by Lindsey Almeida
LStark@Ramapo.edu
Last Update: 04/21/2015
MSET: This project contains academic projects meant for student learning. This site is not for profit and does not imply endorsement by any company or educational institution.